You are invited to a birthday party!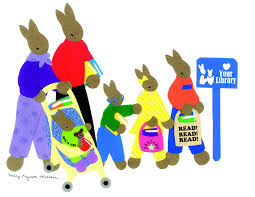 On Saturday, February 4 starting at 2 pm, Hagaman Memorial Library will celebrate "Take Your Child to the Library Day" with a focus on children's authors and illustrators who celebrate birthdays near that date. Live music, stories, crafts, and birthday cake will be among the attractions.
Featured authors and illustrators include Lucy Cousins (Feb. 10), best known for her colorful books featuring Maisy Mouse; Russell Hoban (Feb. 4), whose Frances books are favorites for beginning readers; and Lewis Carroll, author (Jan. 27) and John Tenniel, illustrator (Feb. 26), creators of the beloved Alice in Wonderland books.
There's more! Thanks to a generous anonymous donor and CT State Library, every family visiting the library on Saturday will receive a copy of Harold and the Purple Crayon, by Crockett Johnson. This popular tale of fantasy, originally published in 1955, shows the wonder of the human imagination in the travels of a young boy and his purple crayon. 
The library will also distribute free raffle tickets, and two winners will be chosen – one child and one adult – to receive their very only thesaurus in honor of the birthday of Peter Mark Roget (January 18, 1779) who is best known for publishing his

 

Thesaurus of English Words and Phrases

 

in 1852.
Take your Child to the Library Day (TYCLD) is an international initiative that encourages families everywhere to take their children to their local library. Launched in 2011 right here in Connecticut by librarians Nadine Lipman (Waterford Public Library, retired) and Caitlin Augusta (Stratford Library) with artist Nancy Elizabeth Wallace, TYCLD raises community awareness about the importance of the library in the life of a child, and promotes library services and programs for children and families.
No registration is required. For more information, call the library at 203-468-3890. The program is free and open to all!