Friends of the East Haven Hagaman Memorial Library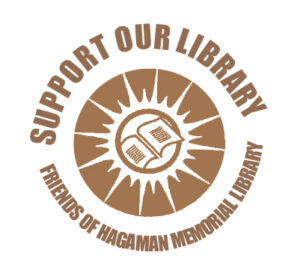 Friends of the East Haven Hagaman Memorial Library Membership Brochure
The purpose of the Friends' of the Hagaman Memorial Library is to provide our library with strong support and to continue to work toward accomplishing our goals of improving our town's library facility and services. To this end, the F.H.M.L. help to create programs and events to educate community members about the library. The Friends' also raise funds to help sustain and improve the library. Join the Friends' today! Click on the link above to download the Friends' membership brochure. The annual cost of an individual membership is $10 and $15 for a family. Meet new people, have fun and help the library too! Everyone is welcome to attend the Friends' Executive Board meetings. The Friends' meet on the second Tuesday of every month from 5:30 p.m. until 8:00 p.m.
*The Friends of the Library encourage local businesses to become members of the group.
The Friends of the East Haven Hagaman Memorial Library will host a Military Whist Card Party Fundraiser on Friday, April 14 at 6:00 p.m. at the East Haven Senior Center on 91 Taylor Avenue in East Haven. Doors open at 6:00 p.m. The Whist party begins at 6:45 p.m. Whist is a simple card game and you will be taught how to play! Tickets are $15.00. To purchase a ticket, please call Debbie at 203-214-0426. No tickets will be sold at the door. Benefits the Friends of the East Haven Hagaman Memorial Library. There will be refreshments and raffle prizes.
Military Whist Card Party Event Flyer APRIL PDF