Summer Reading Bingo
Play Reading Bingo All Summer Long for the chance to win great prizes including:
-$25 Gift Card to Barnes & Noble
-"Blahaj" Shark Plush
-"Luanne the Possum" Squishmallow
-Oversized Throw Blanket
-D&D 5E Player's Handbook
-Self-Care Bundle
      Includes:
Satin Sleep Mask
Smoothing Sheet Mask (3 Pack)
Cocoa Butter Hand Cream
Lip Balm (3 Pack)
Strawberry Banana Bath Bomb
-Snack Bundle
      Includes:
Original Pringles
Milk Chocolate M&Ms
Milk Duds
Buncha Crunch
Pop-Secret Extra Butter Popcorn (3 Pack)
Haribo Star Mix
Sour Patch Kids
Mini Oreos
Mini Chips Ahoy!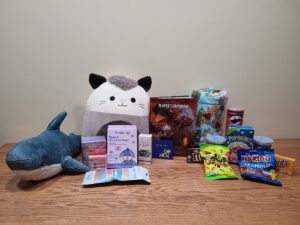 The Teen Summer Reading Program runs from June 20th to August 4th and is open to all teens age 12 to 18!
For more info & to sign-up, please visit the main circulation desk at the library starting June 20th. Attend any teen program the week of June 5th to sign-up early and get a headstart!